Laura Spears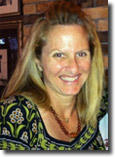 Research Coordinator
Phone: (850) 645-5683
Information Institute
Florida State University
Room 010 Louis Shores Building
Ms. Spears came to the Information Institute in June 2011 as a recipient of the 2011 Information Institute Fellowship award and was recently name Research Coordinator for the Institute. Her professional interests are in library leadership and advocacy, ICT technician and intermediary education and the use of social media in the public sector for policy making. She is currently leading the National Science Foundation technician education study and the Institute of Museum and Library Services examination of rural broadband deployment awareness training in the Florida Panhandle.
Before working at the Institute, she worked as the Director of the Society of the Four Arts King Library in Palm Beach, FL. She has also taught a variety of graduate classes as an adjunct professor for FSU's School of Library and Information Studies. Her professional background includes participation as a board member for the LSTA Advisory Council for the State of Florida Division of Museum and Library Services as well as for the Palm Beach County Library Association.
Laura holds a Bachelor of Arts in English and a Master of Science in Library and Information Studies from Florida State University.  She recently completed her qualifying examination and begins her 4th year in the FSU Doctoral program in Library and Information Studies as a PhD candidate.