---
FRBA Handout
Download a full-size handout below: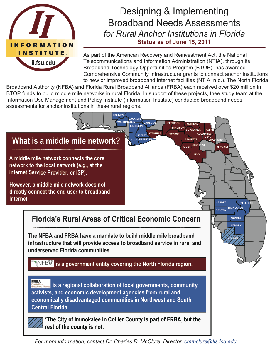 Additional Broadband Resources
BroadbandMatch is designed to help Broadband Technology Opportunities Program (BTOP) recipients identify partners, prospective vendors, and other opportunities for collaboration.
Map of households not served by broadband providers, created by the Florida Department of Management Services and Connect Florida
Presentation slides on broadband deployment in Florida. Posted with the permission of Brad Bowman of AccessDelray.
A general overview of the statewide broadband project, developed by the Florida Broadband Joint Workgroup.
Presentation slides developed by the Florida Office of Economic Recovery, Florida Agency for Health Care Administration, and the Department of Management Services concerning broadband's importance to the healthcare industry
As a part of the Broadband Mapping Project, go to an interactive map developed by the Department of Management Services.
title-inside title-centered
2